Only Slipp-Nott Offers Exact Color Matching & High-Resolution Printing of Your Sports Team Logo on a Custom Traction Base!
Ever wondered why a Slipp-Nott custom traction base costs more than others? The answer is simple: Ours is the ONLY TRUE customized sports traction base with exact color matching and high-grade, edge-to-edge or "bleed" printing of your team logo. What's more, Slipp-Nott provides a lifetime warranty on all its bases, something you CAN'T get from our competitors.
And while other may claim to also sell custom bases, their definition of "custom" is real a stretch of the word. To illustrate, let's compare Slipp-Nott customs to a competitor's.
Slipp-Nott vs the Competition's Custom Traction Base
Competitor's DIY Custom Option:
You print your own team logo on a regular, letter-sized sheet of paper.
You place the sheet of paper onto the base.
You stick a mat of their sticky sheets over the sheet of paper.
We were floored when we read this on the competitor's website. What were they thinking, marketing this homespun approach as an actual custom base?
And while this "quick and cheap" method appears to cost you nothing more than a sheet of paper and some of your home or office printer's ink, you actually end up paying more in so many ways:
Sticking your traction mat over the sheet of paper means the mat isn't sticking to the base. This means the mat is less secure in place!
Each time you replace your sticky traction mat, you must apply another sheet of paper with your logo printed on it.
If you need to replace a mat during a game, you'll have had to remember to bring an extra printout of your logo. If you forgot to do this, your team will be using a plain base until the next time you replace that mat.
You're being offered a custom base…but you have to do all the work!
If you don't place your logo in perfect alignment under a mat, it stays crooked until you have to replace that mat.
Unless you have professional knowledge of graphics and printing, and access to a high-end printer, you'll end up with amateur results. But because the company that provided you this "custom" doesn't do any of the work, you can't blame them.
Competitor's Other, "Professional" Custom Option:
If you don't want the hassle of printing and aligning your own logo on a base, this same competitor offers a "Professional Customization" whereby:
You email the company your logo in .psd, .jpg, or .bmp file format.
The company prints your logo on a sheet of paper and sticks it on the base.
While this option spares you the work, there is one glaring problem we have to point out: The company is asking for your logo in .psd, .jpg, or .bmp file format. What's wrong with that, you ask? Plenty!
Slipp-Nott Requires Your Logo in Vector Format for High-Resolution Printing
Non-vector (or raster image/bitmapped) file types, like .psd, .jpg, and .bmp, are ideal for photographs and fine for images viewed online. They're even passable when printing a small logo on a business card or letterhead. When printing a larger image, however, a vector-based file (.ai, .eps, .pdf, and .svg formats) will give best results with clear, crisp edges and high resolution. Take a look at the difference in this photo: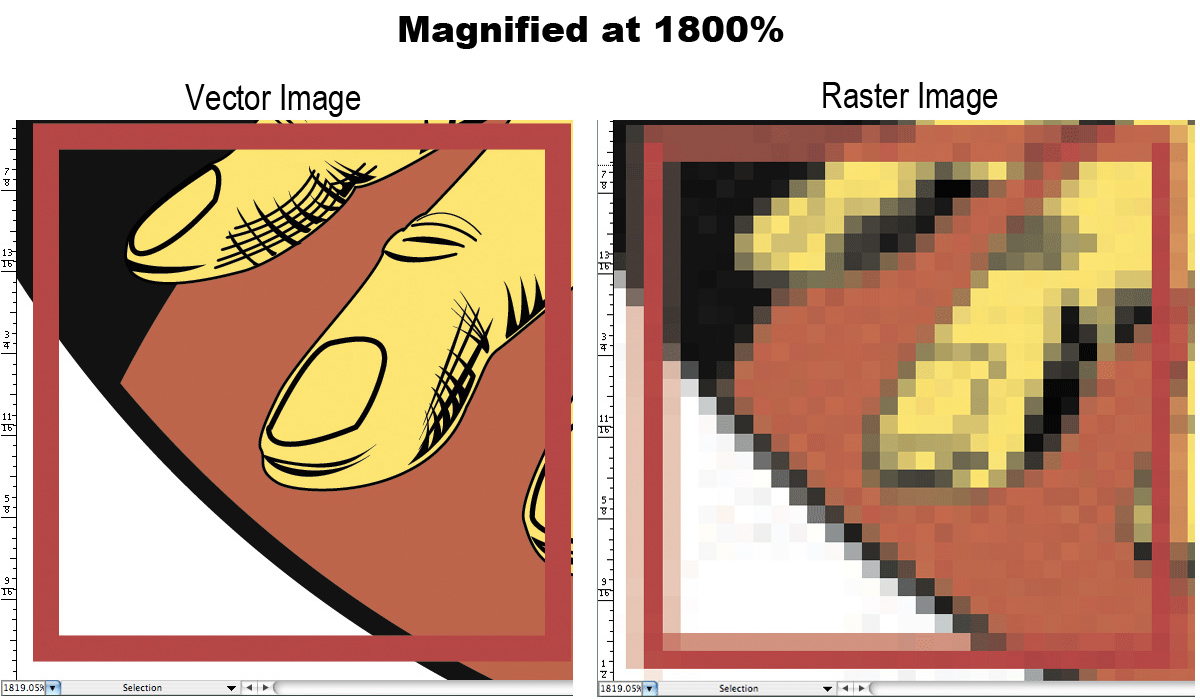 Learn more about the difference between vector & raster images.
Slipp-Nott Insists on Vector Files for Exact Color Matching of Your Team Logo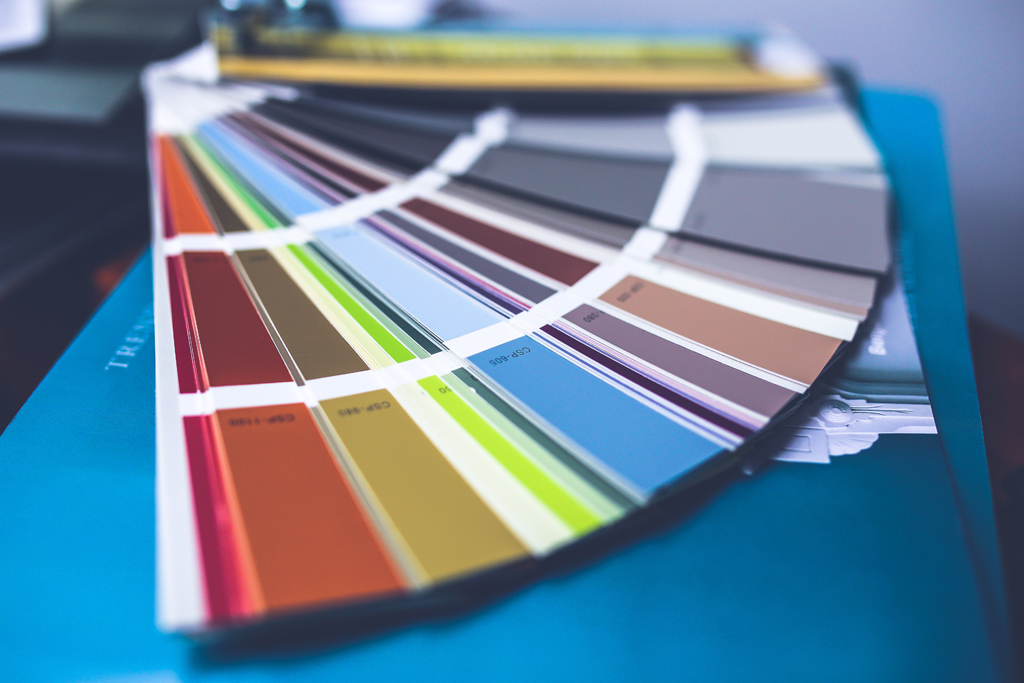 Furthermore, raster files are extremely difficult to color match when receiving the associated ICC profiles from the system that generated the files and almost impossible without them. The science of color matching is beyond the scope of this blog post, but let's just say this:
Not having the ICC profiles is like trying to get to a destination without seeing a map of where you are to begin with. So, if you want exact color matching for your Slipp-Nott custom traction base, vector files make it a lot easier.
Vector Files Let Slipp-Nott Guarantee Quality for Your Custom Base
In fact, Slipp-Nott will NOT create a custom base without a logo in vector format because it's the only way we can guarantee the highest quality custom prints that no other competitor can match.
If you'd like to read more about the different file formats and the importance of using vector image files, we explain it in more detail under our section, tips for submitting your logo for a custom base.
When it Comes to a Slipp-Nott Custom Base, No Detail is too Small
At Slipp-Nott, we strive to get things just right. No matter how large or small the order, from 1 to 100, each custom base goes through the same meticulous process of being:
printed on one of our in-house, large-format printers
inspected for color accuracy
hand trimmed
re-inspected again
placed on the base
mounted
over-laminated
hand-trimmed again
On occasion, we'll get a custom order with a color other than white bleeding out to the edges. In those cases, when possible, we take special care to try to match the edges of the print to avoid having a white edge.
Why do we go through such painstaking steps to take care of all the little details? Because we're perfectionists obsessed with delivering the best quality traction base on the market!
It's no wonder that more professional sports teams like the NBA and NCAA purchase Slipp-Nott traction bases than any other brand.
Lifetime Warranty on All Slipp-Nott Traction Bases
We're so confident in the quality of our product that if your Slipp-Nott custom traction base, when used per our instructions, fails to perform as expected or described for any reason other than abuse, we'll send you a replacement at no extra charge to you.
For an Expert Finished Custom Base with Your Team Logo, Insist on a Slipp-Nott
With professional custom printing and exact color matching of your sports team logo backed by a lifetime warranty, Slipp-Nott is simply the best way to boost the performance and morale of your players. Your team deserves the best. Shop for a Slipp-Nott today!