The Unexpected Journey to Becoming Drew League Legend Frank 'Nitty' Session
Being a basketball player was never the plan. As for being a basketball star? Nothing could have been further from Frank Session's mind while growing up. No, he set his sights on making a name for himself in a completely different world.
"I was skateboarding seriously til like 10th grade," he explained. It was all planned out: First go pro with a sponsor, ride the wave as long as he could, and then start a second career.
His high school coach, however, stepped in and changed all that. Spotted for his athletic talent, Frank's path took a sharp turn, and soon he was playing varsity basketball.
Finding Basketball Chops Through Persistence, Practice, and Discipline
Despite being a "terrible" player, as he put it, Frank stuck with the game throughout high school. "I didn't get good til I was a junior in college."
That's when his performance took a dramatic leap, landing him the title of Big Sky Newcomer of the Year with a 10.2-point average per game. From there, Frank transferred to Cal State LA before making the 2010-2011 roster of the LA D-Fenders of the NBA Development League.
The former skateboard kid, who struggled for years to tap into his talent on the court, was now on track to join the NBA. But as fate would have it, a broken hand would sideline Frank's dream of playing in the NBA.
Switching Gears from Basketball to Firefighting
With professional basketball seemingly behind him, Frank focused on family life, his job as a manager at Verizon Wireless, and pursuing a firefighting career. It wasn't until a few years later that his wife convinced him to join the Drew League to chill out after work.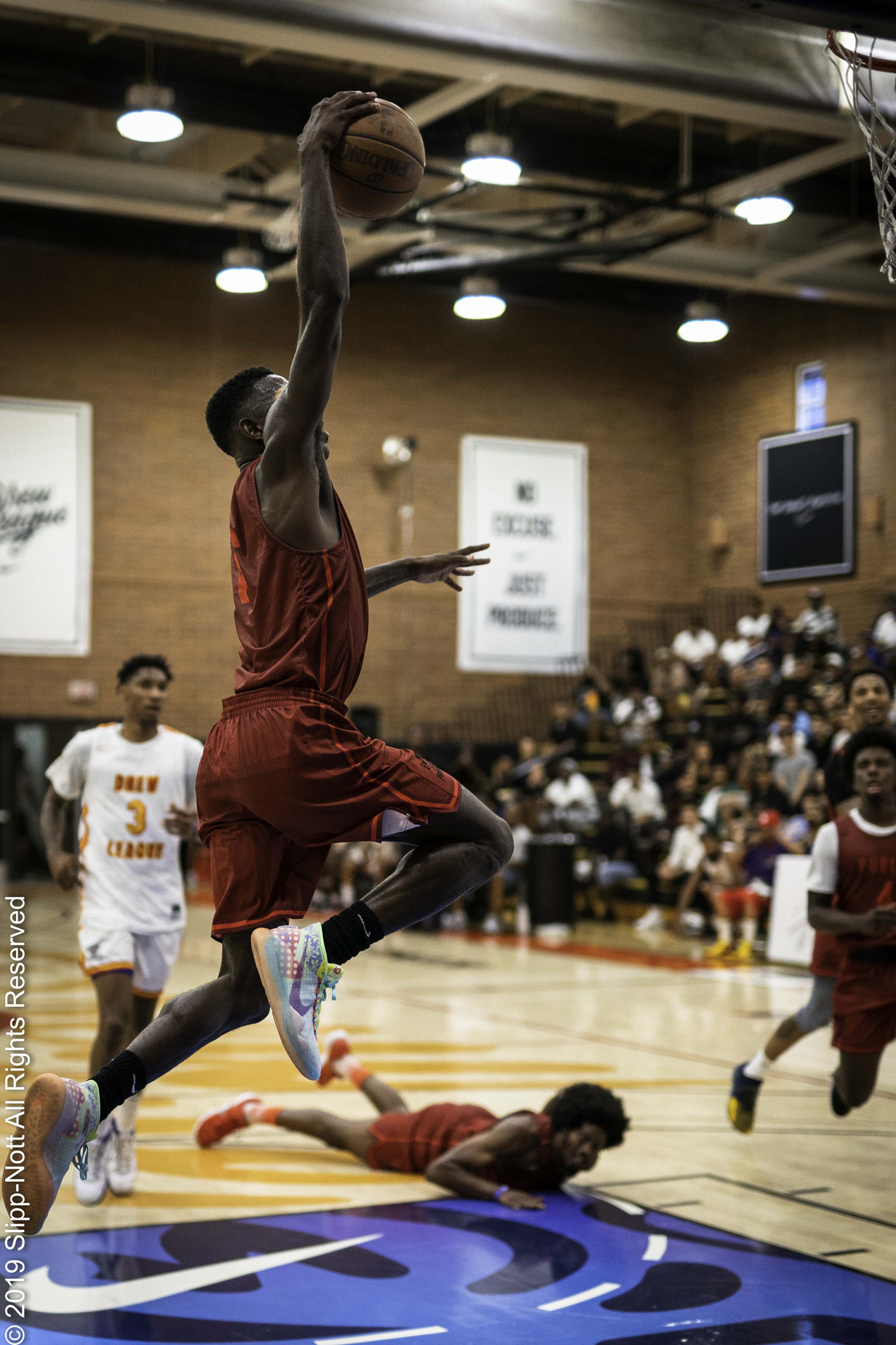 Through the Support of a Friend, Frank's Life Once Again Changes Course
The aspiring firefighter had no intentions of playing pro basketball, but as he maneuvered himself on the court with the precision and grace that put him on the NBA track back in college, there was no denying his athletic genius. Thanks to the support and advice of friend and rapper The Game, Frank's life once again changed course with the pivotal decision to go pro.
Fearless on the Court, Frank Session Earns the Nickname 'Nitty' After Al Capone's Top Henchman
Today the three-time MVP and Defensive Player of the Year has built an impressive if not somewhat intimidating name for himself at the Drew League. Surrounded by opponents towering over his 6'2 frame, he fearlessly defends his ground, annihilating all intimidation efforts. This ability to ward off fear that might otherwise shake his team's confidence has earned Frank the nickname "Nitty" after Al Capone's top henchman.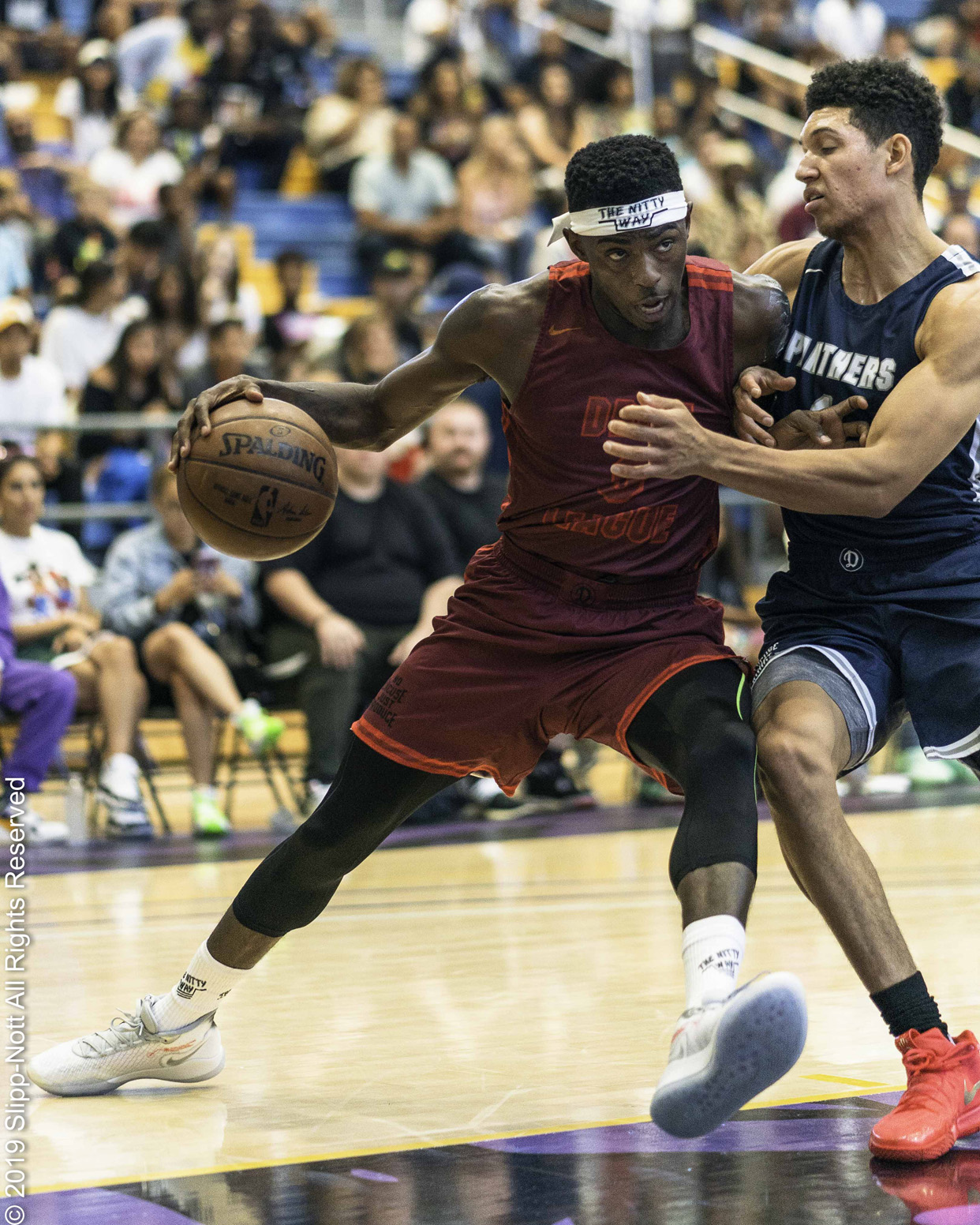 Grateful for the opportunities and recognition he's received from the Drew League, Frank "Nitty" unwaveringly gives his all to the organization. His team, Public Enemy, reached a 10-3 record this season but fell to Most Hated in the semi-finals 64 to 70. Other highlights from the 2019 season include a career-high 60 points in a game against Optimus, following it up with a 41-point game against Tuff Crowd.
This is Frank "Nitty" Session's life now. Playing in LA at the Drew League, flying off to New York to play in The Big 3, coming back to LA to resume play at the Drew, sometimes shooting around 900 three-pointers a day at a mid-week training session…and of course, resting. But no matter how busy the schedule, his wife and two children, the family he works so hard to provide for, always comes first.

When Not on the Court, Nitty Pursues a Busy With Modeling, Art, e-Commerce, and Family
And this isn't all he does well. In spite of Frank's busy schedule, he also models for Guess. You may have seen his face on billboards in L.A. Frank's online store features T-shirts emblazoned with "The Nitty Way" on the front and a parting quote on the back, "It's not personal, it's just business." One way Frank spends his downtime is by playing some "Call of Duty."
Nitty is also a very talented artist with his own sci-fi anime style: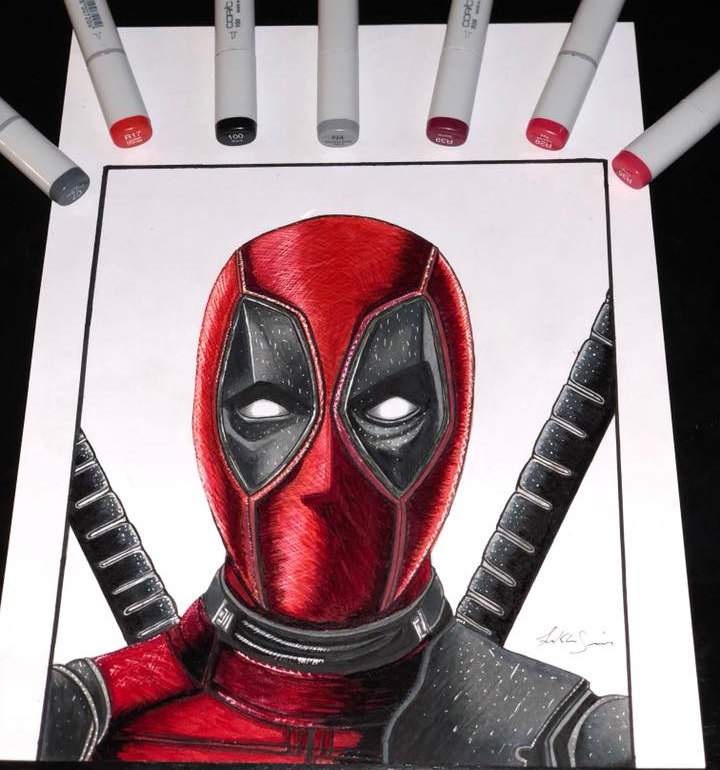 Taking a page out of Kevin Hart's book, "self-promoting until people are sick of you." Frank always takes the time to talk to fans, pose for photos, sign autographs, and grants interviews.
As for skateboarding, Frank hasn't entirely abandoned his first love. He occasionally hops on for a ride but admits to holding off on doing any tricks. "I can't be tweaking an ankle now."
Against the backdrop of an exciting career that's taken him to destinations as far away as Quatar, Frank hasn't lost sight of what he wants to do after basketball. With a bachelor's degree in fire technology already under his belt, he still plans on becoming a firefighter/EMT when he retires from the game. He even has a contact through a coach who's currently a firefighter, and he's hoping a recommendation will help get his foot in the door.
Why the interest in this field, even after all these years? "You know, I just want to give back," Frank replies. "Help around where I was raised. That's always been the plan."